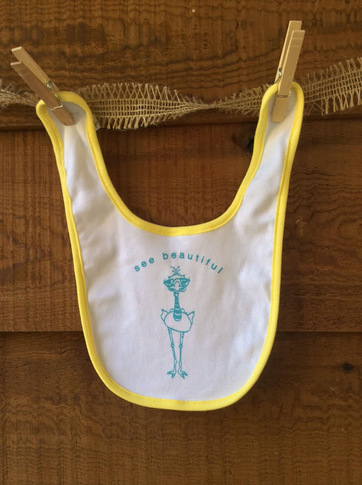 See Beautiful Bib Specifications (Important):
Color: White/Lemon


Size: One Size Fits All
Fabric:
100% fine ring-spun combed cotton, this finer 1x1 rib knit features a comfortable stretch with excellent durability through repeated washings.


See Beautiful Message/Ostrich: Double Sided
Our See Beautiful Bib Story (Even More Important):
Let's be honest, there is very little that is graceful about an infant eating peas or _________ (insert his/her favorite food here). Truth is, food is gonna fly. And while we often have washcloths, hand wipes and maybe even q-tips ready to squeak-clean after meals, things get dirty. Our purpose for providing a See Beautiful bib is to leave parents seeing beautiful while staring at their food-covered, smiling, full bundles of joy.


How our See Beautiful bib can leave you seeing beautiful (MOST IMPORTANT):

With apricot puree matted in hair and pear mush dripping from chins, we want the words on the "See Beautiful" bib to shine through because in those less than beautiful food-covered moments, there really is so much to see beautiful in: Your child and the gift of loving that child and the realization that you're doing a great job at this parenting thing. A really, really beautiful job.
Get a See Beautiful bib for the messiest eater you know
HERE
.