There have been a lot of exciting changes on See Beautiful over the past month (and if you're here for the blog hop, since we last hopped together). We've worked hard to provide more transparency for our community and we're working even harder to give back - to people just like you and me.
I spent two years growing See Beautiful, pretending that sharing my story wouldn't matter to this movement (because this excuse made it easy not to share). Being vulnerable enough to put myself and my personal need to see beautiful out there isn't easy. It is my hope that others who come to See Beautiful and join this community read my words and connect. I hope they find a wonderful space within which they can see beautiful in themselves, others, and create even more beautiful in the world. I hope it makes a difference.

So with the click of my finger, and the decision to "post," (deep breath) here's why See Beautiful exists:
When I tell people I started a company built upon "seeing beautiful" and "creating more beautiful in the world" some think I'm that girl who skips through life like I'm in a field of daisies with a sky full of rainbows, ignoring this land of reality everyone else is living in. And I get where they're coming from.

My hope for others through See Beautiful can sound cheesy (or pie-in-the-sky-ish) on the surface:


See Beautiful in yourself. See beautiful in others. Create more beautiful in the world.
But it's not all daisies and rainbows. I believe that seeing beautiful can restore confidence from doubt, hope from loss, happiness from sadness, and contentment from judgment. I believe seeing beautiful begins at birth and is the catalyst for everyone to make the world a better place. I believe this because, for me, seeing beautiful is healing, hope-giving, love-growing, and life-changing.

I believe that at some point (or many points) in our lives we arrive at an impasse. Something has happened; we have lost touch with how to see beautiful in, or about, ourselves, others, or the world in general. It is in these pivotal moments that the opportunity to see beautiful is vital in helping us grow our confidence, hope, happiness and contentment in life.


As a former elementary school teacher and college professor, I built relationships with hundreds of children and adults negotiating what it means to see and create beautiful in their lives and the world. As an educator, I wanted to do more to empower children to see beautiful and offer some insight into doing so. I wrote a children's book with this sentiment reflected and then I put it away. For years.

I didn't think much about the need to see beautiful in myself and the world until I recognized I was struggling to do so. Deeply struggling. I'd been a positive, happy person all my life. En route, sure, I'd come to my own speed bumps and bounced my way over them. So when my husband and I were introduced to the world of infertility and loss and emptiness, I applied my "tried-and-true-bounce-over-the-speed-bump-and-recover" adage. This was sometimes a tortuous process of hiding grief and I came to know it well, as many "in a dark" place do. With more loss, more infertility, and more emptiness, the speed bumps started feeling more like sink holes and I didn't care that I was wallowing in the bottom of the pit. For years.
It was in this state of blindness to the good I carried within me (and the good in the world), that I had to purposefully refocus my mindset, daily tasks, and life's work. I began to focus on purposefully seeking the tiny pieces of me that I could find peace in - that I deemed beautiful. I began to reacquaint myself with finding great beauty in those surrounding me – family, friends and even complete strangers. And as I made my focus intentional on seeing beautiful in myself and others, it gave me the freedom and confidence I needed to set my sights on creating more beautiful in the world. I believed there was a world-changing power in seeing beautiful – scars and all.

You see, seeing beautiful resides in your thoughts and emotions and the ways you understand yourself, but it's so much more than that. Through setting daily intention on seeing beautiful, I came to understand more fully the hope, happiness, and beauty that resides in each of us, and our power to use that strength to do more good in the world. Children seem to be born understanding this and adulthood seems to take it out of them. I want to nurture this impeccable ability from a young age, to empower all to keep this focus. Throughout life.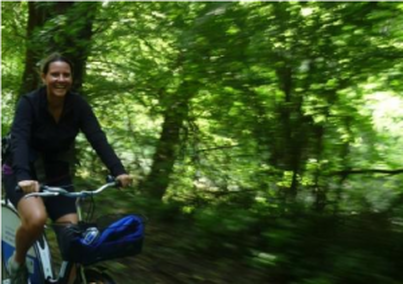 Seeing beautiful doesn't mean you live a perfect, flawless life of gushing at yourself every time you look in the mirror. It doesn't mean everything you touch will turn to gold. It doesn't mean your parenting will be perfect. It doesn't mean you'll even get to be a parent. To see beautiful you have to live and feel – through the good, the bad, the ugly, and the stunningly beautiful. See Beautiful is a lifestyle. My hope for all of us is that when we allow ourselves to experience life as it comes at us, we see beautiful in the freedom you have to enjoy confidence, hope, happiness, and contentment.

My hope is that you see beautiful and that we can work together to foster a new generation of children who never forget it and adults who relearn it. Celebrate your capacity to create more beautiful in the world. Together our focus on seeing beautiful can change the world, one lens at a time.

Seeing beautiful in you,

Lydia Criss Mays (Founder of See Beautiful)